Self-Awareness,
The Deciding Factor in Your Success
The Aware Leader LLC offers leaders and organizations success solutions grounded in enhancing and employing self-knowledge: assessment, executive coaching, team coaching, high potential leadership development, and succession management.
"An enlightening, smart personal development primer…"
The Aware Leader: Self-Knowledge is the Key to Your Success advises leaders that Self-Awareness is the deciding factor in their success. To be an effective leader, an executive needs to know himself or herself. This book is an accessible, illuminating personal development guide towards success for the individual and the organization.
Research reviewed in the book establishes clearly that greater awareness leads to great individual and company success. Metheny takes the reader on a journey to make the connection to our professional and personal success. The importance of identifying who we are, including our inherent imperfections, with non-judgmental acceptance is one of the first steps discussed in the book.
If you are seeking a guide with practical ideas to unleashing even more significant potential and being inspired to take action, then The Aware Leader: Self-knowledge is the Key to Your Success is the book for you.
Richard Metheny is a certified executive coach, leadership consultant, and the President of The Aware Leader LLC.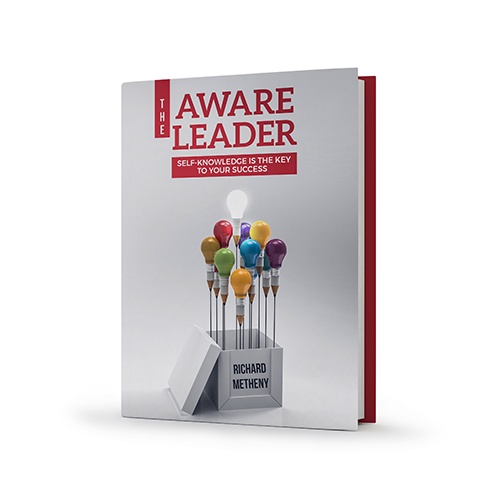 Our company strives to assist senior leaders and teams to model habits of good Self-Awareness to help them create a more Self-Aware organization. 
Senior leaders and teams that are Self-Aware are open to learning and better equipped to adjust quickly to changes in the business environment.  This capability is the defining characteristic of successful organizations and possibly the most compelling reason all senior leaders should include Self-Awareness in their development goals.
Our Business Has Two Primary Goals:
To enhance senior leader's and team's learning and development; more specifically, to develop the senior leaders and organizations to have greater Self-Knowledge (understanding of talents, values, interests, especially as these relate to the capacity to provide effective leadership) and Leadership Competence (the ability to mobilize oneself and others to serve and to work collaboratively).
And to help senior leaders and teams to facilitate positive change. That is, to undertake actions that will help the leader and team to function more effectively and humanly. We examine leadership development from two levels:
The Individual: What personal qualities need to be fostered and developed in the leaders of an organization? What are the attributes most supportive of team functioning and positive organizational results?
The Team: How can the executive develop the desired, individual qualities, and also affect positive team/organizational results? How can the team become more congruent and committed?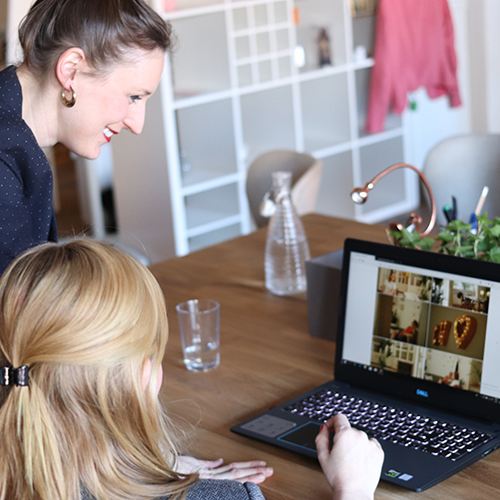 The Aware Leader CORE VALUES
Whether by default or by choice, we are all leaders, and we believe that great leadership starts with self-awareness. Our commitment with our clients is to help them understand where their natural inclinations lie and use this knowledge to boost those inclinations or compensate for them. We also understand that leadership excellence requires aligning with one's values.
We believe that robust and authentic relationships are the key to the overall success of our process. We cultivate partnerships with our clients to always ensure that we are respecting their goals and visions.
In any relationship, communication is critical. We endeavor for effective and open communication with our clients to ensure we align with their strategies, business plan, and professional goals.
We believe that truthfulness comes before anything in our business and our relationship with our clients. We will only engage with clients that we believe can truly benefit from our services.
We believe that conducting in the best interests of our clients is what's best for us in the long-term – when they succeed, we succeed.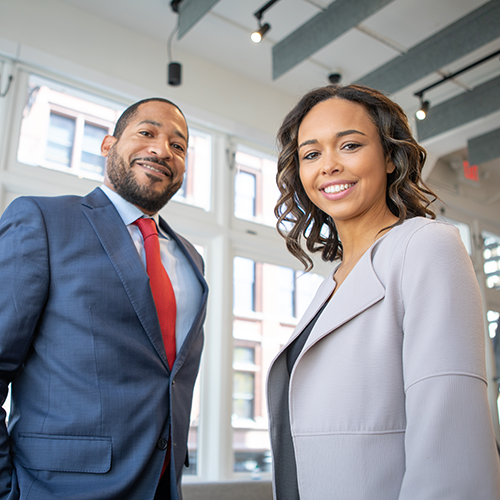 We drive positive business results for our clients by assisting leaders to improve their effectiveness and execution. Our ACT coaching model, Awareness | Choice | Transformation, helps leaders and their teams increase their Self-Awareness to foster forward-looking and outcome-based change. From customized individual coaching sessions to expertly facilitated team coaching, The Aware Leader engagements are oriented to ensure measurable results.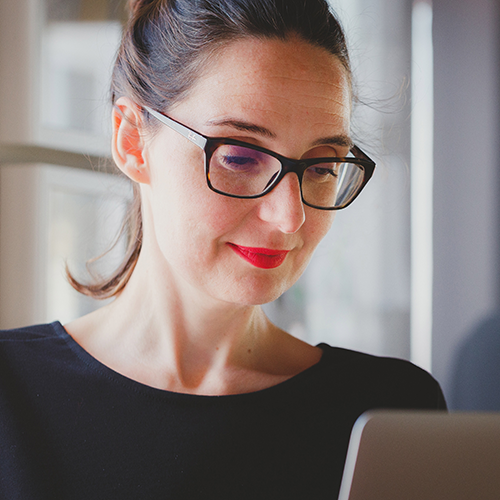 Executives share a common dilemma – how to tap into the full potential of their people and execute business strategies. Our leadership assessments help executives increase their Self-Awareness and help organizations make informed, evidence-based decisions around executive selection, high-potential identification, and succession planning. When your organization is profiling candidates for senior leadership roles, evaluating critical talent to support high potential development, managing succession planning, or supporting executive development our assessment processes support your efforts.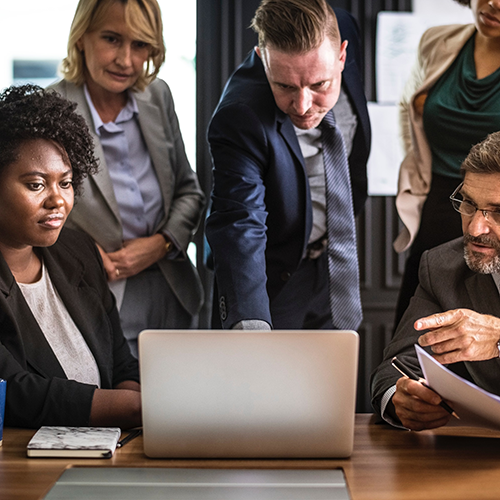 We work with our clients to focus on elevating leadership growth to a competitive organizational priority by assisting them in gathering data about their people and helping propel emerging leaders with the highest potential to be ready for new roles. Our process helps you define leadership for the future, unleash leadership potential, and assess readiness for your unique business' succession management.
The Research for Self-Awareness
A survey of 75 members of the Stanford Graduate School of Business Advisory Council rated Self-Awareness as the most important capability for leaders to develop.
In a study of the stock performance of 486 publicly traded companies, Korn/Ferry International found that companies with strong financial performance tend to have employees with higher levels of Self-Awareness than poorly performing companies.
In a study of 17,000 individuals worldwide, the Hay Group Research found that 19 percent of women executives interviewed exhibited Self-Awareness as compared to 4 percent of their male counterparts.
High self-awareness leads to better team performance
A simulation shows that it affects decision-making, coordination, and conflict management.
SOURCE Erich C. Dierorff and Robert S. Rubin  |  HBR.ORG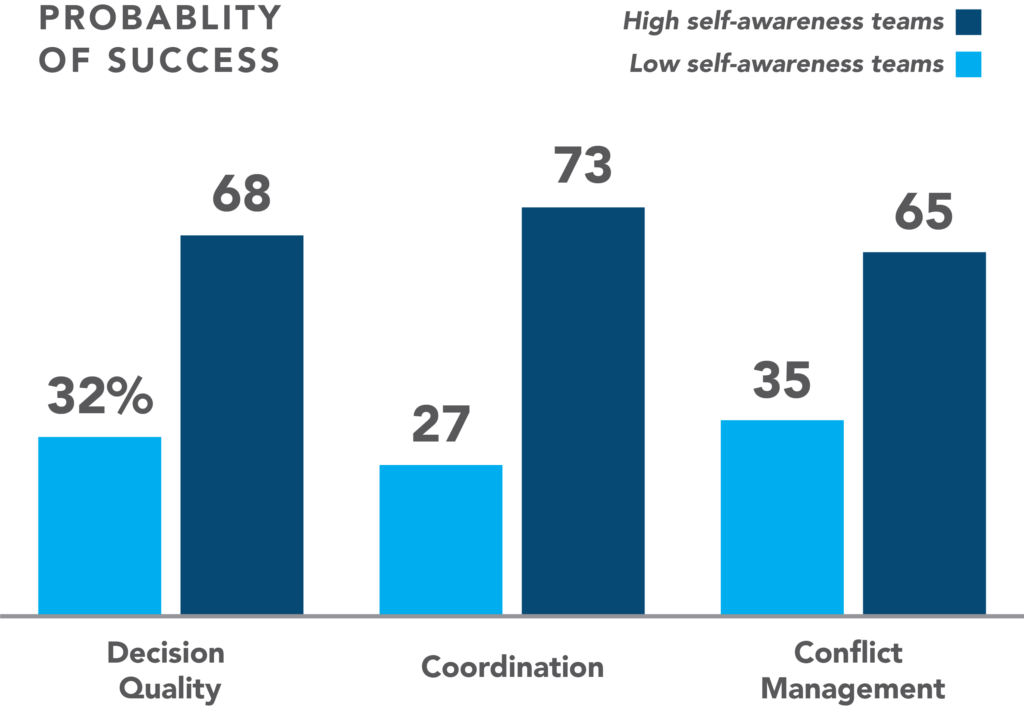 Denise had been chosen by a global advertising agency to manage a significant change. As the leader of a new office in Southeast Asia, she was sure she knew what the job required: she quickly identified key priorities and mobilized the needed resources to execute sales results. However, Denise did not understand that her admirable drive and focus often led her to overextend her team. 
On many occasions she would hand out projects she believed needed to be done without pausing to consider the individual skill levels, readiness, or conflicting priorities of the people she assigned. She often knew the result she wanted but failed to clearly articulate the specifics of what it would take to get there. Denise gave directions but never considered whether to team members understood and did not take time to listen to their feedback.
There was a severe disconnect between the way Denise saw herself and the way her employees saw her. Her team grew frustrated with her lack of communication, while Denise grew frustrated with their lack of performance. A more Self-Aware leader would have seen this frustration as a signal to stop and assess what was going on with her and with them. Instead, she shoved down her irritation and took over more tasks to make up for what she believed her team 'lacked.' 
This approach only made things worse.
Because Denise only looked outward and not inward for causes, she could not see her role in the problem. When she looked at herself, she focused on the fact that she was successful with clients, who loved her energy, creativity, and 'get it done' approach. But selling services was not the issue, executing work was. 
Denise's office soon ranked the lowest in employee engagement and the highest in employee turnover among twelve global offices. She chalked up the high employee churn to 'issues outside her control.'
I met Denise when her agency invited my company to put regional office leaders through a leadership assessment that included 360-feedback—that is, feedback from those who worked around each leader. Denise was happy, and not surprised, to know that her employees loved her drive and her ability to bring in business. She was, however, dismayed to learn that her focus on advancement led to a blunt, insensitive interpersonal style and a low awareness of employee needs. Most of the time her team members had no idea what she thought of their performance until things went wrong and she 'let them have it.' 
As difficult as it was for Denise to hear that feedback, she took it to heart. She began to take a proactive approach in facilitating her staff's professional development. Denise considered people's readiness for assignments and set clear expectations so they could better track their